DAYCARE
Your canine friend will have a day of supervised running, playing and socializing in our spacious 1,500 sf playroom.
Single day - $35
5 day package - $160 ($32/day)
10 day package - $280 ($28/day)
​20 day package - $480 ($24/day)
- Packages must be used within 60 days of purchase.
10% off package with two dogs in same household
No daycare on Holidays.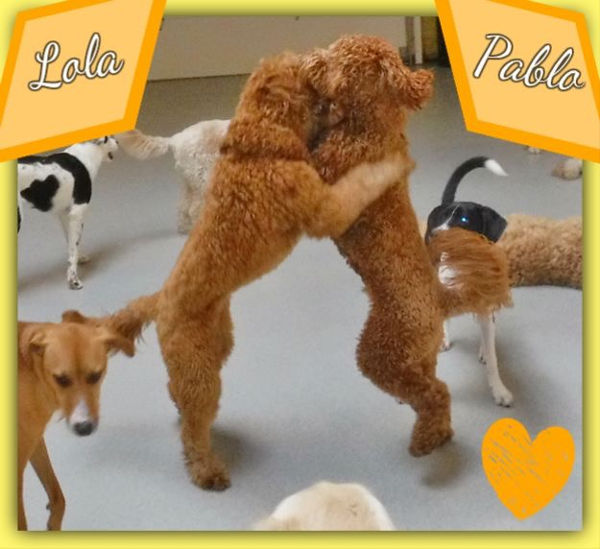 DAYCARE/BOARDING LATE CHARGES:
If your dog is not picked up by 7:00, you will be charged a $10 surcharge for the first 15 minutes late and $20 between 15 and 30 minutes late. If your pet is not picked up by after 30 minutes, he/she will be boarded overnight at the overnight boarding charge.
DOG REQUIREMENTS:
Free of fleas.
Spayed or neutered by 6 months of age.
Current rabies, distemper/parvo & bordetella vaccinations.
Must pass a temperament test.
All forms to be completed & signed.
BOARDING
When you're out of town, put your worries away. Your pup will have their own private suite to snooze the night away and playtime during the day (seven days a week) if your pooch gets along with other dogs and can pass our temperament test. We provide potty breaks throughout the day if your pooch can't participate in daycare. You may also request any of the added services below to make the stay even more enjoyable. Please provide enough food for your pet's stay with us.**
Single dog regular rate: $50/night*​; holiday rate: $55/night***
2nd dog in the same suite: 20% discount
3rd dog in the same suite: 40% discount
All boarding prices include free daycare for dog friendly pooches who've passed our temperament test.
*We provide complimentary daycare on your pup's check out day until 12 noon. There is a $30 charge for those checking out after noon until we close.
**If your dog runs out of the food you provided for his/her stay we will use a dog food brand supplied by us and the charge is $3/cup. We also have dog kibble in our retail area which we are able to add to the stay.
***Holiday dates:
Winter holiday: Dec. 24th through Jan 2nd
Easter weekend: Fri Sat Sun
Memorial Day weekend: Fri Sat Sun Mon
Independence Day: July 2nd through July 6th
Labor Day weekend: Fri Sat Sun Mon
Thanksgiving holiday: Wed Thur Fri Sat Sun.
Ala Carte Boarding Menu Add-Ons
Leisurely Walk - $20
** Special: Package of 4 walks for $70
Your dog will be taken for an individual leisurely 30 minute walk around the neighborhood. He/she will enjoy the sights and sounds of nature with tons of trees, scampering squirrels and chirping birds.
Snuggle Time - $8/night
A 10-minute one-on-one cuddle time where your pooch gets loads of special attention and petting before bedtime.​
Gourmet Meal - $4/cup
A sumptuous gourmet meal consisting of human grade ingredients of steamed rice, ground beef, peas and carrots with a health and hearty helping of chicken broth. Your loved one will devour our 5-star meal fit for a king!