Kim Schiro - Head Trainer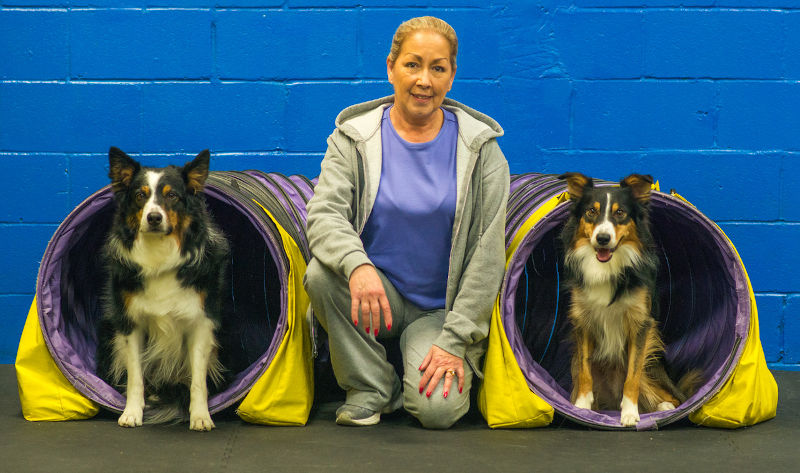 Kim is a Certified Dog Trainer who graduated with honors in 2007 from Animal Behavior College and a member of the Association of Pet Dog Trainers (APDT). She served in the Best Friends Animal Society Community Training Partner program and currently works as a Mentor Trainer for other students who are completing their ABC Certification Program.
Kim has studied under the guidance of many respected professional trainers learning a wide range of philosophies from each one and regularly supplements her education by attending training seminars and workshops. She is certified in animal nutrition and Dog CPR/First Aid; she also has professional experience with various other animal species. Kim served as president of the Chicago Dachshund Lovers Club for 15 years and actively competes with her dogs in obedience, rally, agility, barnhunt, happy ratters and herding, earning numerous titles in each venue with all of her dogs.
Kim helps dog owners teach their canine companions to be well-behaved, happy members of the family. She specializes in not only obedience, rally, and agility training but also more serious issues including fearfulness, anxiety, nuisance barking and aggression. Her approach to training always emphasizes humane methods and listening to the dogs' side of the issue.
Kim lives in Chicago with her dogs; Tommy, Jack, Frank, and Dean. For fun, she can always be found with her dogs competing in obedience, agility, herding and barnhunt rings or at the farm herding the ducks and sheep.
Classes
Basic Obedience - 5 weeks (6 students) - $250
- suitable for dogs of all ages
Class will focus on basic obedience, problem solving, breed tendencies and good manners. You will learn how to incorporate basic manners into your dog's day-to-day lifestyle. Learn the proper use of voice commands and rewards. How to use timing, motivation and consistency to strengthen the bond between you and your dog.
To enroll please click here.
Continuing Obedience - 4 weeks (6 students) - $185
- completion of basic obedience or equivalent with instructor's approval
In this class, we will continue to sharpen our basic skills using distractions and if weather permits, working outside. This class is open to students who have completed our Basic Obedience Class or upon approval of the instructor.
Rally Class - 5 weeks (6 students) - $185
- suitable for dogs over 6 months and have had attended a basic obedience class
Rally Obedience combines the fun of dog agility with traditional obedience. Unlike traditional obedience, handlers are allowed to encourage their dogs through the course and makes a game out of obedience to take your dog's obedience skills and behavior to the next level. Rally is great for enhancing your dog's focus and attention.
Dog and owner teams follow a numbered course of obedience-related tasks, while heeling the dog between a series of stations and performs the behaviors on the sign at the station.
Our rally obedience classes focus on learning the individual behaviors that the signs use and then putting those behaviors together while learning how to perform each sign. After learning the signs, they are put together into a full rally course. AKC Rally Obedience is the primary venue we address, although you can easily do other venues using the information taught at our classes.
To enroll please click here.
Happy Ratters
- completion of basic obedience or equivalent with instructor's approval
A fun, trusting environment for dogs and their handlers to hunt vermin (rats in tubes) in an "urban" setting. Happy Ratters is an activity that allows your dog to use their natural desire to hunt. It harnesses a dog's unique ability to detect scent, and determine the source. In training, dogs learn to find the rats just about anywhere you can hide it!
AKC Canine Good Citizen Prep Class/All Levels
- Completion of basic obedience or equivalent with instructor's approval
Throughout this 4-week course, we will help you and your dog prepare to successfully pass the AKC Canine Good Citizen certification (CGC) as well as the upper levels of the CGC (CGCA & CGCU). We will work on all the components in the test and hold the testing on the last day of class. For more information on the program can be found on the AKC website- www.akc.org
Trick Class
- Completion of basic obedience or equivalent with instructor's approval
Trick class is for dogs of all ages and is all about cutting loose and having fun with your dog! Teaching dog's tricks is one of the joys of having a canine companion in your life. Upon completion of your class and display of tricks learned, we will help you submit your Novice Trick Dog Title form to the AKC.
Workshops/Specialty Classes
Classes/Workshops that will focus on various topics such as leash walking, recall, polite greetings, proper competition heeling, obedience skills, etc.
To enroll please click here.